Toujours...Always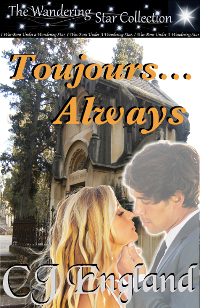 MOBI ISBN: 9781943853229 / EPUB ISBN: 9781943853236
Available from Restless Wind Publications
Category Novel / E-book $2.99







The Third in the Wandering Star Collection

In Paris' Ghostly City of the Dead, Two Unlikely Lovers Unravel a Century Old Curse.

Jana Hayes has a problem. As a professional photographer, she's used to giving only her best. Yet every photograph she takes of this certain tomb at Père Lachaise Cemetery in Paris France, always comes back with a smudge on it. It's not her camera—she's figured that much out—so just what is causing it?

Étienne Bolet has been trapped within the borders of the cemetery for more than two hundred years, damned to wander between worlds, living a half existence as he tries to break his curse. Every day he longs to be free from this fearful existence, but it's not until Jana appears with her sweet smile and curious eyes that he wonders if his chance has finally come.

When Jana discovers her "smudge" is an Ethereal entity, she is both terrified and intrigued. Who is this haunted man whose eyes are filled with pain and sorrow? Why is she the only one who can see him? And why does Étienne look at her with such need and desire?

The passionate magic between the two of them burns hot, and they soon discover it's only when they give into the feelings between them that they can change their future forever.