Skyrockets in flight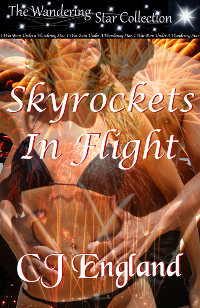 MOBI ISBN: 9781943853281 / EPUB ISBN: 9781943853298
Available from Restless Wind Publication
Novella / E-book $0.99






The Fourth in the Wandering Star Collection

Open Your Heart to Passion and Let the Fireworks Begin!

Looking for a place to call home, Captain Ross Cannon finds the peaceful Sierra Nevada Mountains ideal for his needs. Retired from the army and tired of fighting, he opts out of becoming a mercenary and decides, rather to use his skill as a demolitions expert to design things that give enjoyment.
But not everyone is excited that a fireworks expert has moved to town. Environmentalist, Stacy Jackson has spent her childhood in Bass Lake, and her past carries a burning secret that makes her hate fireworks of any kind. When she finds out that her own Grandfather has hired Ross to put on the annual Founder's Day Fireworks display, she does everything she can to force a halt to the project, bringing her into contact with the Captain himself.
Fireworks of another kind explode between them, and Ross must push past Stacy's fears and expose the secret she hides, before they can decide if what they have will fizzle out like a wet firecracker or burn forever in a spectacular display of passion and color.