Bad to the Bone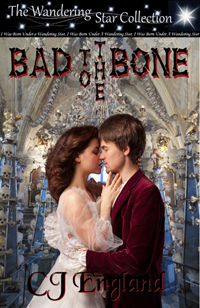 MOBI ISBN: 9781943853304 / EPUB ISBN: 9781943853311
Available from Restless Wind Publications
Novel / E-book $2.99






The Fifth in the Wandering Star Collection


With a little ghostly help, two new lovers find the promise of eternal love.
Haley Addams has dreamed her whole life of learning the art of dance well enough to become a teacher and pass the joy of the craft on to her students. And when she is given the chance to hone her skills in the beautiful city of Prague in the Czech Republic, she's overwhelmed with excitement. That is…until the dreams start. Sexy, heart-pounding visions of two young lovers enjoying their wedding night.
Aleš Rynt has lived his whole life in the shadow of the Sedlec Oussary. As the great-great-great-great-great grandson of František Rint, the imaginative artist who created the elaborate and macabre bone sculptures in the "Bone Church", he's always felt a part of the small quiet chapel. But for the last few months he can't seem to fight the compulsion to visit every day. And after a beautiful American woman faints at his feet, he's really glad he didn't try.
Blindsided by inexplicable attraction, Haley and Aleš are shocked to realize her dreams and his compulsions are connected. Suddenly, a door is opened into the Ethereal world, and their lives become entangled with two spirits who desperately need their help. And as the couples work together to battle a six centuries old curse, they all discover that the promise of everlasting love is the only thing truly worth fighting for.