Dragon Games II: Truth or Dragon

Available Now
Ebook




Lucina Bell had thought she and Ryuu Tatsuya had more than a connection the evening they met at her friend, Eadlin's Christmas party. One-night stands weren't her style, but when Ryuu stood her up the next day, she thought that was all the previous night had been. Yet she couldn't convince her heart of that.

Ryuu hated the fact he'd walked away from Lucina without a word, but he knew their relationship was doomed before it started. And even though he wanted her more than he wanted to breathe, Lucina's scent didn't trigger the mating magic in him. Though he wished with all his dragon heart it did.

When they meet again at Eadlin and Drayce's wedding, one glance stirs the smoldering passions between them. But will learning the truth about her lover send Lucina flying out of his arms, or will she take Ryuu's dare and dance with her dragon forever?
Dragon Games III: Hide and Go Dragon
Available Now
Ebook




Ormr Jormungan, Beta Captain of the Drakehaven clan's security force, spends his days immersed in work and his nights endlessly singing the dragon's lament for his mate and newborn son, lost in a senseless car accident. But when he meets Magdeline DeSilva at his clan leader's wedding, her quiet beauty and steadfast courage awaken a desire in him he'd thought long dead.

Magdeline barely survived the death of her husband, whose plane was shot down in Afghanistan. She has no intention of ever getting involved again, especially not with another warrior. Yet when she meets the dark, brooding Ormr, she is drawn to the dragon-man. His gentle protectiveness a balm to her wounded spirit -- until she discovers what he does for his clan.

Ormr doesn't understood why Magdeline turns away from what they could have built together. When she calls for help to find her kidnapped daughter, all his protective instincts are aroused. As they battle the clock to find little Bettina, their attraction flares once more and threatens to consume them.

Confused and frightened, Magdeline decides to strike out on her own to find her daughter. But she doesn't understand a dragon always protects his treasures. And even though she may try and hide from him, Ormr now understands the magical truth of love, and he'll never give up seeking his forever mate.
Bad to the Bone

Available Now
E-book

Haley Addams has dreamed her whole life of learning the art of dance, and when she is given the chance to hone her skills in the beautiful city of Prague she's filled with excitement. That is…until the dreams start. Sexy, heart-pounding visions of two young lovers enjoying their wedding night.

Aleš Rynt has lived his whole life in the shadow of the Sedlec Oussary, but for the last few months he can't seem to fight the compulsion to visit every day. And after a beautiful American woman faints at his feet, he's really glad he didn't try.

Haley and Aleš are shocked to realize the dreams and compulsions are connected and their lives become entangled with two spirits who desperately need their help. And as the couples work together to battle a six centuries old curse, they all discover that the promise of everlasting love is the only thing truly worth fighting for.




An Ancient Prophecy Comes to Life in an Erotic Tale of Forbidden Love.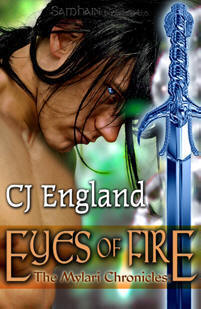 ......The Mylari Chronicles: Eyes of Fire
An ancient prophecy comes to life in the erotic tale of the forbidden love between an elven prince and a kidnapped human woman.
Talia's visit home turns upside down when dark, frightening creatures appear seemingly from nowhere and transport her to another world. The faerie world. In this mystical paradise, she finds her life and honor threatened for reasons she does not understand.
When Calion Sáralondë, Prince of the Calen'taur Elves, rescues the human female from an orcan stronghold, his attraction to her is immediate and strong. And the feeling is mutual. Though their love is sardai—taboo—Calion can't bring himself to send her back to her world. Her presence sets a fire in his soul only mating with her can tame.
And their passion could be the answer to an ancient prophecy that saves his world.