Freebies
Free Stuff
Check back every month for new information on CJ England's exciting SPECIAL giveaways.
For anytime freebies...you'll need to send a request to CJ at womanofthewind1@yahoo.com. Once you receive the appropriate address, be prepared to send a Self Addressed Stamped Envelope (SASE)* with 75 cents postage attached.(Overseas fans, be advised the postage will depend on where you live.)
*It must be a #10 envelope – that's 4"x 9", or a regular business envelope. If you send a smaller envelope the freebies will not fit. Sending a bigger envelope will not mean more free stuff, so save a tree and send that 4" x 9".
One Request Per Person
Do NOT send change or dollar bills or checks. Requests accompanied by those things will not be fulfilled.
Other Goodies
Enjoy great bookcovers? Check out these autographed free WALLPAPERS just for my fans...
Mylari Trading Cards- Get to know the characters in the Mylari Series with these special cards. Pay only shipping and start collecting now!

You'll Never Look at a Carnival the Same Way Again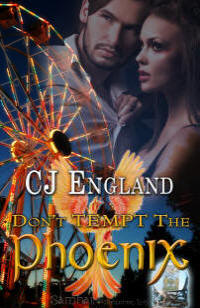 Don't Tempt the Phoenix
Aithne has spent her life living for her brother. Now that he's found his twin flame, she's free from her duty as his familiar. She plans to relish every moment—and search for a soulmate of her own who will match the longing that burns in her heart. For now, a traveling carnival looks like the perfect vehicle to find the adventure she craves. Starting with the carnival's handsome and enigmatic owner.
Milcham Phoenix hides a secret behind the carnival's dazzling distractions. As the only creature in Paradise who didn't fall into sin, he is unique…and lonely. For centuries he has searched for the one woman whose beauty, spirit and passion tempt him to open his heart. No one has come close—until Aithne.
The fire within them burns out of control. But before they have the courage to share their true feelings with each other, evil attacks, and painful secrets are exposed. Truth is the one thing that will overcome an ancient enemy…and the one thing their love may not survive.